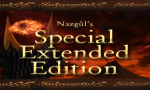 Features in SHORT for BETA III (see PDF on site for complete info)
----------------------------------------------------------------
>>> NOTE (25/9): NEW VERSION FOR BETA 4.7 WILL BE ADDED ASAP <<<
in no particular order...
- MAJOR re-balancing of ENTIRE game, to ad "realism"!!!
Health - Armor - Damage : all balanced!
Stronger buildings and fortresses. Higher health and armor for some and higher damage for others. Balrog, Mumakils, Dragons and other major monsters are now MUCH stronger! Siege equipment tougher and much more useful!
- Very strong and expensive fortresses, stronger walls!
- Focus on defence rather that offence, to give time for
strategic planning, and offensive action LATER in game!
- Longer building times = NO MORE RUSH TACTICS!!!
- Reskins of ALL units in game to look more "real", for ex;
New Gondor skins with better detail and metal look,
New Rohan skins with leather and versatility,
New dwarven skins with leather and metal,
New uruk skins with rust and dirt,
and more...
- No more insanely ugly faction colors! :p
- Rohan mini faction added to Men of the West!
- New heroes
9 Nazgûls, Gothmog with Warg, Ugluk, Galadriel, Celeborn, Frodo, Sam, Merry and Pippin!
- New units
Lórien Warriors, Noldor Warriors, Rohan Peasants, Rohan Archers, Dwarven Berserkers, Uruk Elite, Uruk Scouts, Mordor Pikemen...
- Hobbits recruitable from new Hobbit House for Elves
Hobbit heroes can ride Treebeard & throw rocks!
- Ents can make themselves invisible while standing still in a forest or close to a tree!
- New powers for Nazgûls and The Witch-king!
They now go by foot, horse or Fellbeast and Witch-king can use his burning sword like in the movie RotK! ;)
- Every faction has got an air unit
(Eagles, Fellbeasts or Dragons) for spectacular air fights!
- Heroes, monsters and some units have auto healing!
- Better AI
For example; they now build structures and towers close and all around their fortress to defend it!
- Polished ToolTips for better descriptions of units and powers as well as added "movie feeling"
These are just a few examples of the major features of this mod!
Please read ALL about this mod in the PDF on the site
-----------------------------------------------------