Register and log in to move these advertisements down
Helm's Deep Last Hope
| | |
| --- | --- |
| Category: | Work In Progress Mods |
| Created: | Wednesday September 5, 2007 - 12:24 |
| Updated: | Sunday March 30, 2014 - 18:18 |
| Views: | 41906 |
| Summary: | The ultimate map mod |

Staff says

4.3

Members say

4.4

Average

4.4/5.0

49 votes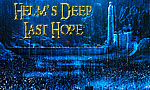 This mod focuses all its efforts into one map to create perhaps the best map BFME has ever seen.
What this mod features:
* will be for BFME2 and must have the latest patch installed
* beautifully scripted cinematic scenes to give the viewer "movie type" scenes
* unique Rohan and Isengard factions specific to my Helm's Deep map
* map will be heavily modified from EA's one
* custom audio and images from the movie
* entirely scripted Ai with many challenging objectives and goals
* new, abilities, heroes, units, and spellbook powers
* custom made fx, skins, and button images
* can choose to be either good or evil
* release date is unknown as of now
Links / Downloads
Comments
Display order: Newest first | Page: 1, 2, 3, 4
Yddeds - Wednesday October 13, 2010 - 7:20
have you got any idea when this will finish
The Frozen Sun - Wednesday January 20, 2010 - 23:39
So... Just to clear up any confusion I'm having (because I'm a little bit slow sometimes) - This mods includes: A redone Helms Deep map, new units, heroes, etc. and a... New mini-campaign? This was the bit I was confused about.
Rob38 (Team Chamber Member) - Monday November 2, 2009 - 13:35
Yep, I am in the process of editing all the Helm's Deep structures with new skins too. :)
Anthem - Monday November 2, 2009 - 12:01
I hope that you edit (remake?) the buildings (especially walls of the Hornburg) of Helms deep... If you haven't done it yet, I think you should. It's not even really hard, but I bet you know that already
yams in a can - Sunday September 20, 2009 - 19:17
So are you a guy (woman pictures)?
Ring o' Fate - Sunday August 30, 2009 - 10:23
(Cracks whip) FASTER!!!! I WANT THIS DONE BEFORE YOU DIE!!! :p
Keromalas - Sunday August 16, 2009 - 12:37
Hey Rob38, thanks for letting me know about the map thing I did. Glad you did. I didn't know I had to contact him...anyways thanks again and the mod looks great! Can't wait for it to be released.
Rob38 (Team Chamber Member) - Tuesday June 16, 2009 - 13:34
Nope, mod is still being worked on. Check the forums for the latest news and updates. I have not updated my website in a while, but I'll try to address that soon.