Register and log in to move these advertisements down
Wars of the East
| | |
| --- | --- |
| Category: | Archived Mods |
| Created: | Sunday March 25, 2007 - 4:46 |
| Updated: | Saturday January 7, 2012 - 22:13 |
| Views: | 42308 |
| Summary: | A mod for RotWK that adds new factions, units, heroes, stuctures, powers and more. |

Staff says

3.7

Members say

4.1

Average

4.0/5.0

43 votes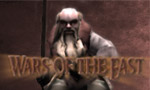 Wars of the East is a large-scale RotWK mod made by IthronAiwendil.
The main goal of the mod is to expand and change each aspect of the game:
- Two new factions, Evil Men and Dorwinion
- Each of the existing factions get lots of new units, heroes and structures
- New Ring Heroes for each faction, excluding Mordor
- New creeps
- Inn system changed
- New powers for heroes and spellbooks
- New maps
- New campaign, focusing on the untold battles of the East
- New WotR territories and game modes
- New CaH subclass, powers and awards
- New color theme
- New team colors
- New camera system (if possible)
- And much more!
By the creator of the Istari of Middle-earth and Blue Wizards mod.
Links / Downloads
Credits
Comments
Display order: Newest first | Page: 1, 2
ILUTAVAR - Friday February 8, 2008 - 11:11
this fucking rocks before, now this fucking shit fuking rocks now!
spetey - Tuesday February 5, 2008 - 20:00
YAY, the final beta is here! thanks alot man.
IthronAiwendil - Wednesday January 23, 2008 - 5:34
Just download the latest.
spetey - Sunday January 20, 2008 - 10:46
do i have to download both betas, or just the latest???
IthronAiwendil - Thursday October 11, 2007 - 2:38
@Guess Who: It's for RotWK. And I know the version you can get from the site is obsolete and doesn't include any new factions, but the Evil Men Beta does. I added a download link to that version.
Guess Who - Sunday September 30, 2007 - 18:36
so its goin to be for rotwk and bfme 2? as you said it will own them.

--------

one thing i noticed when i played it i downloaded it off the site.
Their was no new factions.
lycan - Tuesday September 25, 2007 - 12:30
the dorwinion mod will be coming soon and it will own all other BFME2 & ROTWK mods. btw can u replace me with netwtrous^raider because i kinda like this name more :P
-mapper for wars of the east
jimiojoe - Tuesday April 17, 2007 - 13:14
wow like some of the tech tree ideas and pics on your website - looks a lot better than i thought it did :D - moving my rating up to a 5 :) because of how much your actually changing to alll factions along with your unique new war of the east ideas