| | |
| --- | --- |
| Category: | Archived Mods |
| Created: | Friday July 3, 2009 - 12:34 |
| Updated: | Monday October 21, 2013 - 13:42 |
| Views: | 17792 |
| Summary: | A mod that intends to bring back the fun to BFME1 |

Staff says

2.0

Members say

3.0

Average

2.7/5.0

7 votes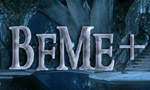 As you can see from the name, BFME+, this mod is an add-on for BFME, including lots of new stuff like units, heroes, buildings and so on. Besides there will be some general changes to the game.
The main part of this mod is about the four mini-factions, one per original faction. To be able to use that minifaction, we changed how the outpost system works. Instead of just unpacking the outpost, you can choose between two different outposts: the normal one, which just includes a citadel of your main faction and three buildplots, and the minifaction oupost where you get a minifaction citadel, three minifaction buildplots and some defense possibilities.
And because this wasn't enough, we also decided to increase the number of buildings that are available at the economy plot (the one where you build lumbermills or so):
That's why we thought that it would be nice to have mini-subfactions (or "mini-minifactions") there. These are actually just one building where you can buy units, heroes and maybe upgrades aswell.