| | |
| --- | --- |
| Category: | Work In Progress Mods |
| Created: | Thursday November 24, 2011 - 18:12 |
| Updated: | Thursday November 24, 2011 - 18:15 |
| Views: | 9582 |
| Summary: | Lone Wolf Age of Numenor is a large scale mod that sets Lone Wolf during the time of Realms in Exile |

Staff says

3.0

Members say

-

Average

3.0/5.0

1 vote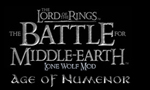 This mod is a sister mod or spin off of Lone Wolf Return of Shadow as part of the Resurrection.
It takes place during the time of Gondor and Arnor's kings highlighting the wars of the time.
The Battle of the Elves and Sauron, The Last Alliance, The Wain Riders and The Fall of Arnor.
The mod has 8 factions.
Gondor
Arnor
Northmen
Khazad Dum
Lindon
Eregion
Angmar
Mordor
It fully utilises the various features of LWR including Expanding CPL, Environmental Modifiers, Watchtowers and the enhanced Battle roles.
All LWR maps will work for LWAON.
Gondor and Mordor will remain very similar to their LWR versions except with new heroes and a few tweaks.
Northmen will be similar to Rohan and Angmar will be similar to the now defunct Morgul faction.
Lindon,Eregion and Khazad Dum are the real stand outs for the mod with each having very distinctive styles.