| | |
| --- | --- |
| Category: | Work In Progress Mods |
| Created: | Friday March 15, 2013 - 20:50 |
| Updated: | Thursday July 4, 2013 - 11:05 |
| Views: | 7101 |
| Summary: | Continues on Elrond99's Age of the Firstborn mod by turning time back to around TA2000. |

Staff says

-

Members say

-

Average

-

0 votes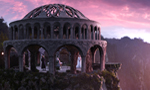 This modification will build on Elrond99's amazing "Age of the Firstborn" mod, and turn back the clock to around TA2000, setting "the Rise of the Witch-King" into a more suitable timeframe.
The basic aims of this modification are:
• To polish off Elrond99's Lindon Faction
• To set the factions in the times surrounding the Fall of Arnor.
• To improve the overall ambience of the game with new maps, units and much, much more!
I would like to stress that I will not go against the lore if I can help it, and will try to conform to what was originally planned for AOTF before its demise.
The faction roster will be composed thus for now.
• Lindon
• Lothlorien
• Gondor
• Dwarves
• Dol Guldur
• Goblins
• Angmar
• Umbar