| | |
| --- | --- |
| Category: | Beta Mods |
| Created: | Sunday May 25, 2014 - 4:07 |
| Updated: | Sunday April 10, 2016 - 20:14 |
| Views: | 9940 |
| Summary: | a strategy focused mod that make it hard and strategic to win, |

Staff says

-

Members say

-

Average

-

0 votes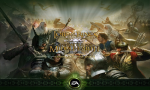 Armies of middle-earth is a strategy focused mod that make it hard and strategic to win, trying to achieve the size and complexity of the wars and battles in "The Lord of the Rings" film trilogy.
You will find and entire mod over all the game but keeping the feeling of the original.
Adding lots of maps, textures, icons, game dynamics, create a hero powers, and improved unit abilities and AI that will force you to use strategicly your resorces.
Include
-the BFME 1 campaing to the good/evil campaing, making them longer.
-Lots of maps by T3A comunity alredy loaded.
In other words, you have to try it to know what i'm saying ;).
INSTALL:
- download the files at the end of the page named:
*"Armies Of Middle-Earth.big"
*"englishpatch106" or "spanishpatch106" goes to "Lang"
*"SpanishSplash" or "EnglishSplash" those are stetics
drop "Armies.." and "...Splash" to the installation file of your bfme.
and "englishpatch106" or "spanishpatch106" to "Lang" folder
KNOWN BUGS:
-There is a bug with the general playing after about an hour and half (provably earlier) that simply crash the game, no particular evidence of the source.
-The basic tutorial sometimes gets difficult to finish because of the goblin fighter horde, the move around instead of fighting.
-There are missing some of the names and description of the unis (or some don't match perfectly).
-Mission 10 Evil is not working right now.
Future expansion projects:
-A new system in the game, that will consist in a smaller fortress that you improved into the faction you want (F.E. if you are using men faction, you can chose between rohan, dale or gondor).
Any help will be welcome since this is my first mod and i've made it my own through this years.
Please contact me with your suggestions and bug reports or if you wanna help :).
-Armies Of Middle-Earth.big 330.8 MB
mega:///#!WYRCwLhJ!kp5xwF1VXYKuE5jd6YiJOHExIOBjElNmZc6yseeG2Jo
-EnglishSplash.jpg 173 KB
https://mega.co.nz/#!6ZJjXIhb!XdeSJyDRAoxOsOFMMHWv4V25XRN9ixgTZHaXHHuLK-Y
-spanishpatch106.big 5.4 MB
https://mega.co.nz/#!SNBX0KSA!DZ-chG3aZJhHLP97FiVg1nr4OUoxyU4ccGhlnRB2Sfs