| | |
| --- | --- |
| Category: | Worldbuilder |
| Level: | Intermediate |
| Created: | Wednesday July 18, 2007 - 19:49 |
| Updated: | Monday September 13, 2010 - 13:56 |
| Views: | 6137 |
| Summary: | Getting the BFME 1 AI system to build and use custom heroes effectively - including special powers |

Staff says

4.3

Members say

4.5

Average

4.4/5.0

7 votes
By now, you should be staring at something like this: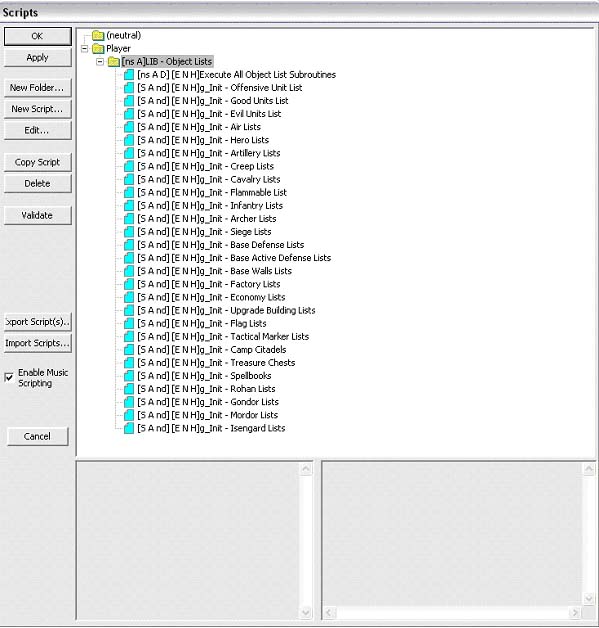 Starting with "Evil Units List", select the script file and open the "Actions If True" tab. You are looking at a complete list of any unit in BFME1 that has a classification of evil… we need to add "MordorSauron" to this list.
In most cases, the easiest way to add a new script file is to copy an existing one, and then modify it (when making more complex scripts it can also be best to start from scratch so be careful!).
Just select, and then copy the first item in the list (in my case it is "MordorArcher"), and open the "Edit Action" dialog box.
We want to replace the "MordorArcher" object with "MordorSauron". Just select it and then browse to the appropriate object in the "Edit Object Parameter" box shown below.
You will find Sauron hiding in "Mordor-->Unit". Simple as that!
Hebblewhite - Thursday July 19, 2007 - 6:44
Hey guys,

I've added a pdf version of the tutorial for easier reading... this one is a bit long (apologies for that), but I decided to combine both parts 1 and 2 of the set to make it easier to follow.

Cheers,

Hebblewhite.